Grand Reopening: Monday, February 5
​Please see new schedule below.

Open House
​Friday, February 2 from 5:00 - 7:00 p.m.
​Saturday, February 3 from 12:00 - 2:00 p.m.
​Sunday, February 4 from 2:00 - 4:00 p.m.

You can register during Open House if you are a new student. You can come by and check out the renovations and tell us if there are any changes to your previous schedule if you had already registered back in August, 2017.

​Refreshments will be served. Please be patient as we continue our remodeling efforts as classes resume. We will be operating out of Studio A only, and Levels II and III have been combined for the rest of this dance season.

​Many "thanks" to everyone who helped with manpower or financially to help us recover. Also many "thanks" to those who included us in your thoughts and prayers.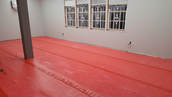 Update as of 1-30-18: The studio was flooded by Hurricane Harvey. We have working restrooms, and the underlayment has been put down. The Marley Floor is next! We are going to reopen on Monday, February 5. Thanks!
​
https://www.youcaring.com/lorisdancestudio-944375

Please consider a donation to the above link to help with the funding for recovery. We are not finished, yet, and we still need supplies. Thanks.


---
12443 Market Street
(serving the Channelview, Cloverleaf, Denver Harbor, Galena Park, Houston, Jacinto City, North Channel, and North Shore Areas)
Houston, Texas 77015
713-453-0460
lorisdancestudio@Hotmail.com
​
Accepting students ages 3 and up
Offering Tap, Ballet, Jazz/Lyrical, Baton, Gymnastics,
Hip Hop, and Clogging
​
Let Them Praise His Name in the Dance - Psalm 149:3